What is ANTLR?
ANTLR, ANother Tool for Language Recognition, is a language tool that provides a framework for constructing recognizers, interpreters, compilers, and translators from grammatical descriptions containing actions in a variety of target languages. ANTLR provides excellent support for tree construction, tree walking, translation, error recovery, and error reporting. There are currently about 5,000 ANTLR source downloads a month.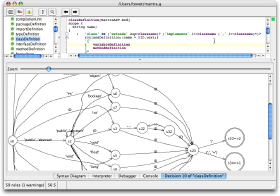 ANTLR has a sophisticated grammar development environment called ANTLRWorks, written by Jean Bovet.

Terence Parr is the maniac behind ANTLR and has been working on language tools since 1989. He is a tech lead at Google, formerly professor of computer science and data science at the University of San Francisco.

More...


Testimonials

Thanks to all the ANTLR team !
gwenael.chailleu@gmail.com
Just a few words to say that we used ANTLR V3.4 to create our own extension...

Antlr for NLP
Mihai Surdeanu
At Lex Machina (lexmachina.com) we use Antlr for information extraction...

Using ANTLR to build a query parser and translator
Atul Dambalkar (atul@entrib.com)
We have been using ANTLR to build a query parser and then converting the...

ANTLR makes building custom DSLs a breeze
Mukundan Agaram (Enterprise Architect at...
We used ANTLR to build and parse custom Domain Specific Business Rule Languages...

More...


Showcase
Release14
Damir Franusic Wed Sep 19, 2012 08:09
Release14 product line uses ANTLR in various modules like CLI, SMS Filtering,...

UDK/UnrealScript plugin for Eclipse
Ori Hanegby Wed Aug 17, 2011 08:28
UDK/UnrealScript support for eclipse. Adds support for code completion,...

Open Cloud Computing Interface
Andy Edmonds Tue Jun 21, 2011 08:49
The OCCI grammar supplies a lexer and parser that will validate any valid...

More...